Jenny Owen Youngs
Brooklyn, NY - pop / rock / Indie
Shows Performed: 34
Shows Attended: 5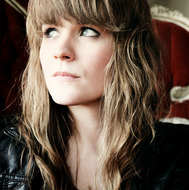 Artist Bio
Songwriter, guitar player, natural history museum enthusiast, lover of Johnny Cash and Tom Waits, Sagittarius on the Scorpio cusp (prior to the shake-up). My songs have been heard on Weeds, Nurse Jackie promos, Life Unexpected, Privileged, and in Victorias Secrets the world over.
ximunderground

James_McNally

meemzo

JonDBarker

brrusselburg
Last Tip From
WeAreTheHollow
Upcoming Shows (1)

Jenny Owen Youngs + Gregory & the Hawk
Jun 30 - 05:00 PM - 30 Min Show - Price: 30 Notes
18
tickets left
Music By This Artist:
An Unwav...
Jenny Owen...
Batten t...
Jenny Owen...
Transmit...
Jenny Owen...
Great Bi...
Jenny Owen...
Last Per...
Jenny Owen...
The Take...
Jenny Owen...