Fullscreen Music Showcase
Culver City, CA - youtube
Shows Performed: 0
Shows Attended: 20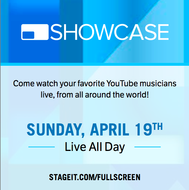 Artist Bio
Join us on Sunday, April 19 for a showcase of top YouTube musicians right here on StageIt!
Tons of your favorite music creators will be live right here. The line up is below!
We power the creation and sharing of video with the premiere, online creators and world's leading brands on a global scale.
Jessie_Loves_Joey

JMoffat01

Chiara_Smith07

cecilliaschytt

Adhdcarlos
Last Tip From
MickyMouseFan