TylerMatl
Hendersonville, TN - pop / Indie Pop / Crossover
Shows Performed: 1
Shows Attended: 0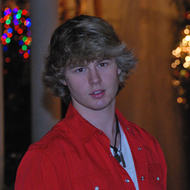 Artist Bio
My name is Tyler Matl (pronounced Model). I'm an Unsigned 18 year old singer and songwriter from just outside of Nashville, TN.
I released my first CD at 17, entitled "Wonderstruck" on 11/11/11. I released the first song "Super Human"… (read more)
TheoMusicq

Andrea_Lynn

Dana_Wertheimer

Katie_Elizabeth_Anne

KatAndLaryy
Last Tip From
bdberger
Music By This Artist:
Super Hu...
Tyler Matl
Wonderst...
Tyler Matl
Hello - ...
Tyler Matl