The Dollyrots
Tampa, FL/Los Angeles, CA - rock / Punk / Pop-Punk
Shows Performed: 64
Shows Attended: 13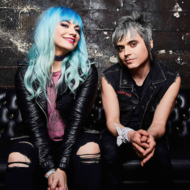 Artist Bio
The Dollyrots began their thrill-packed journey when band founders Kelly Ogden and Luis Cabezas met in middle school, playing music together for the first time when she asked him to teach her guitar. After graduating with degrees the twosome… (read more)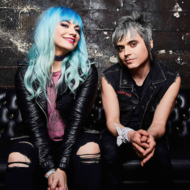 Artist Bio
The Dollyrots began their thrill-packed journey when band founders Kelly Ogden and Luis Cabezas met in middle school, playing music together for the first time when she asked him to teach her guitar. After graduating with degrees the twosome relocated from Florida to Los Angeles in 2001 and began playing shows and creating a sound that combines the energy of punk rock with the bubblegum hooks of pop. They have since built an incredible and loyal audience and become true punk stalwarts through tireless touring and recording. 
The Dollyrots self-recorded and released their first EP, Feed Me Pet Me in 2003 and were chosen by Hewlett Packard to be part of their Share Your Story Campaign - which lead to a chance meeting with producer John Fields. The unsuspecting band went into the studio to record for the HP campaign and knocked it out in one take with Fields behind the board. Since the studio was rented for the day Fields suggested they record a few more songs, and before the sun went down their debut album Eat My Heart Out was finished. Initially self-released, the record gained traction on Los Angeles radio and was picked up by Panic Button, an imprint of the influential Lookout Records (Green Day, The Donnas, Rancid) label.
The Dollyrots spent most of the next two years on the road, including their first stint on the Vans Warped Tour. In between dates the band started working on their second album but were derailed when Lookout went out of business. Luckily, they had a fan in Joan Jett, who was so taken by the Dollyrots that she offered them a spot on her Blackheart label roster. Produced by Jacques Wait and Fields, the band's second album, Because I'm Awesome, was released on Blackheart in March of 2007. They toured relentlessly and popped up all over the map, recording a version of Jett's song "Bad Reputation" for the soundtrack to the film Endless Bummer, playing themselves on the TV series Greek and landing a commercial for the Kohl's department store.
Their next album was recorded in 2009, with Cabezas taking over some production duties for the first time. A Little Messed Up was released in 2010 and saw the band folding more pop elements into their sound. The Dollyrots left Blackheart soon thereafter and started up their own Arrested Youth label. Sticking with self-releasing their work, the group turned to crowd-funding site Kickstarter for support, launching a wildly successful campaign that yielded the funds needed to record 2012's The Dollyrots. Working again with Fields, the album featured Ogden and Cabezas firmly in charge for the first time in their career as they played every instrument and had final say over all facets of the process. They hit the road after the record's release, including lengthy stints with friends Bowling For Soup and Buzzcocks, only stopping when Ogden became pregnant. That didn't stop this couple in life and music from making yet another record, and 2014's Barefoot and Pregnant was recorded during Ogden's pregnancy. Their baby son arrived, and the album garnered the band another Billboard chart debut.
The all-acoustic Love Songs, Werewolves, and Zombies was released digitally in 2013 to their PledgeMusic supporters and eventually received a public release the following year. The Dollyrots continued to successfully fund their projects through crowd-funding campaigns and in 2016, they released their first live concert album, the ambitious, double CD/DVD set Family Vacation: Live in Los Angeles. That same year also saw the release of the three-song EP Mama's Gonna Knock You Out.
As 2016 ended the twosome found themselves working on two new projects; another DollyTot and their next album. The couple's baby daughter was born in November and the John Fields-produced Whiplash Splash was released in early 2017, gaining multiple Billboard Chart debuts.
The newest adventure on the now-expanded Dollyrots caravan was the release of their seventh album, Daydream Explosion in 2019 and a new venture with Little Steven Van Zandt's Wicked Cool Records. As the band played to a sing-along packed crowd at the Vans Warped Tour Finale Celebration Daydream Explosion debuted on three billboard charts, #7 on Heatseekers, #16 on Independent Albums Chart and #98 on Top Albums. This followed Whiplash Splash debuting on the Heatseekers chart at #13 and on the Independent Albums chart at #31, the band's 2016 live album/DVD Family Vacation: Live in Los Angeles hitting #15 on Heatseekers, while previous studio album Barefoot and Pregnant peaking at #7 on the same chart.
In the midst of all this activity Ogden also recently launched a duets side project with Jaret Reddick of Bowling For Soup called Jaret and Kelly, which yielded the theme song for ABC's Schooled. She has also taken over duties as the weekday morning DJ on Sirius XM's Channel 21 The Underground Garage.
Through it all, The Dollyrots recording and touring has raged on and the band continues to bring their explosive live show across the globe. Their distinctive brand of punk-pop has landed them in commercials and television shows while their sunny, hooky songs and sweaty hugs have won them a devoted fan base. Along with raising a family, the duo plan to continue to keep the punk-pop flame alive. Their next 7 inch vinyl single "Make Me Hot" was released March 17, 2020.
Jason_Collie

andreasj

StefC

Rick_Bezhig

Musicthx
Last Tip From
Dave_F
Upcoming Shows (To Be Announced)