Jenny Owen Youngs
Brooklyn, NY - pop / rock / Indie
Shows Performed: 70
Shows Attended: 11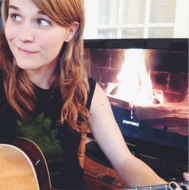 Artist Bio
Songwriter, guitar player, natural history museum enthusiast, lover of Johnny Cash and Tom Waits, Sagittarius on the Scorpio cusp (prior to the shake-up). My songs have been heard on Weeds, Nurse Jackie promos, Life Unexpected, Privileged, and in Victorias Secrets the world over.
2000TJ

jmprice

SamAnn

scottm

beanjuice
Last Tip From
Whedonette
Upcoming Shows (1)

JENNY OWEN YOUNGS
Oct 28 - 04:00 PM - 45 Min Show - Price: 50 Notes
90
tickets left
Music By This Artist:
Slack Ti...
Jenny Owen...

An Unwav...
Jenny Owen...
Last Per...
Jenny Owen...
Transmit...
Jenny Owen...
Batten t...
Jenny Owen...