Jimmy Anderson
Dyersburg, Tennessee - Country / americana / bluegrass
Shows Performed: 2
Shows Attended: 4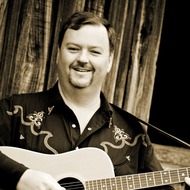 Artist Bio
singer/songwriter - vocalist, musician
Jimmy found music at a very early age. One of his earliest memories is holding a guitar and turning around in the living room and saying, "Hello, I'm Johnny Cash." At the time he really didn't know who… (read more)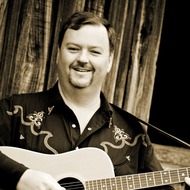 Artist Bio
singer/songwriter - vocalist, musician
Jimmy found music at a very early age. One of his earliest memories is holding a guitar and turning around in the living room and saying, "Hello, I'm Johnny Cash." At the time he really didn't know who Cash was, but he would learn in time...
He got the bug to start playing guitar when he was a young teen-ager. His dad bought him a cheap electric guitar and amp at an auction. Like all kids his age, Jimmy would express interest in something and would eventually lose that interest, but not this time. He was hooked and needed something better to learn on, so his dad and uncle went to the local music store to find something suitable. They landed on an electric-acoustic Alvarez and a solid body Gretsch. The former would suit him both acoustically and for the times he would need to plug in. The latter was referred to by his uncle as a "hot guitar."
Jimmy took lessons from a lady in the nearby town of Alamo. After several weeks he was discouraged when she informed him, "there's no need in you coming back - I can't teach you any more." Heartbroken, he asked her if she he had any hope at all of him ever learning the instrument. She replied, "no, you misunderstood - I can't teach you anymore. You have done so well that you've learned all I can teach you and you've done it in a very short time. Now you need to explore your own abilities and see where it takes you."
First it took him back home, where he would spend many an hour playing along with Johnny Cash records and learning all the licks that Luther Perkins could teach him via vinyl. Then he started jamming with a guy up the street for hours at a time. His talent was discovered at his home church, where he began playing for the youth group to sing to on Wednesday nights and the occasional Sunday morning special music.
The young lady in charge of the youth had some experience playing "out" at places, and she gave Jimmy the opportunity for his first public performance. Local talent Hee Haw shows were very popular at that time (the 80's) and there was one at Gadsden, Tennessee. Cindy sang a Rosanne Cash song and Jimmy played "lead strumming" on his Gretsch and picked the basic lead "turnaround." He was nervous, but it was a thrill he would never forget.
He went on to play with a local Bluegrass group (The Anderson Family - no relation) and learned more and more about fills, picking rhythm, stage attitude - all of it. He played in an even larger Hee Haw show in Dyersburg and learned what it was like to stand and play in front of HUNDREDS of people. Needless to say he was hooked...
A few years later he was back on his own just picking and grinning and jamming and playing at church. He heard about a new, even bigger, production of Hee Haw at Dyersburg State Community College and he went to audition. Not considering himself a singer, he wasn't sure how it would go, but the director pulled him aside and suggested that he get a bluegrass act up with some other guys that he happened to know.
Next thing you know, Jimmy is meeting the director's son and his friend. The former played a "straight rhythm" (perfect for backing up Jimmy's picking rhythm style) and the latter played bass. They had heard of a new banjo picker in town that had not settled with a group yet and they pulled him in. Being from the hills of East Tennessee, he brought even more bluegrass background with him and The Bare Basics was born.
They played several shows locally and had a good following for a few years until Mark (banjo) moved back home and Kerry (bass) moved to Memphis. Thus ended another chapter in Jimmy's musical career. He went on to continue to learn as much as he could and to continue jamming, but wouldn't officially join another group for several years...
Then one night he was at a church service with The Barnett Family (Stanton Tennessee) and the invitation was Jesus Use Me. Jimmy prayed that prayer, not knowing where God would send him. What God had done was to use all the years of music as preparation for the next step on his journey. Gospel Music was the farthest thing from his mind when he prayed that prayer, but God told him He wanted Jimmy to enter that ministry.
He didn't answer the call immediately. He kept asking God if He was sure - making certain that Jimmy didn't misunderstand. He was working at the time with a local man who was part of a quartet years ago, so he asked for this man's advice. It just so happened that the gentleman was working with a local group to help them get started. He offered to introduce Jimmy and he became a regular in the group.
Jimmy never really felt that God was leading him to be there full time, but he felt that it was the right place at the time, so he learned as much as he could and met many more people in the ministry. He eventually wound up auditioning for a group called New Heaven's Echos after their guitar player decided to retire. He was an instant fit and wound up staying for over seven years, eventually adding lead guitar, mandolin and the occasional bass playing to the group. He met Bobby Jones at Silver Tree Recording in Alamo when the group cut their next album, and he went on to sit in on several sessions for others as well.
Jimmy was very busy during that time. When the Echos didn't have a singing, he and his wife would travel with the Dill Family or the Barnett Family. He even sat in with Bobby's two groups (Jones Family & Gospel Edition) from time to time. He was serving the Lord and gaining immeasurable musical experience.
When his two sons were getting old enough for school, he felt God telling him to leave the road. It was at that same time that Jimmy's pastor came to him to ask about leading the music service at his home church. Seeing it as a sign that God was directing the change, he accepted the position.
He spent several years with music as a background hobby, but not an active pursuit. Now he's in his forties and his kids are all but grown. His wife and he still enjoying singing the church hymns and the occasional special music but he has also begun pursuing the dream again. He started doing more and more jamming, getting back to his bluegrass roots, and wound up with a country band called NashVegas. He spent almost a year playing bass guitar and providing lead vocals for two-steppers and line dancers. Saturdays and Sundays often find him and his wife once again on the bus with The Barnett Family, where he provides rhythm guitar in his same inimitable style of "picking rhythm." Vanessa is featured on a song or two as well.
He has begun another chapter of his musical career as well by becoming a singer songwriter. When asked what his style of music is, he replies, "old school country, but it's not a copy of anything." He attributes a part of his style to something Don Schlitz told him, "write what you want to hear, not what you think others want to hear. Write it first for yourself. It will come from the heart and face it, you may be the only person that ever hears a lot of it!"
He has more recently been a part of the Texaco Country Showdown competition as well as being a featured performer at the weekly open mic in Jackson. He has branched out to the Nashville area where you will find him dropping into Pucketts Grocery or the Bluebird for open mic. He continues to be booked for Commodore Grille's three straight months as an "in the round" singer-songwriter. He is also planning a CD project of original songs to be recorded between other local shows.
With more than 30 years of musical experience under his belt, he's come a long way down that road that others only dream about. When asked if he thinks he'll ever be successful, he smiles and says, "I already am. I'm making music and writing songs and making people smile on a regular basis. I'm living the dream."
tammyandersonjones

Lin_W
Last Tip From
CyberSpaceFaith
Upcoming Shows (To Be Announced)