Scott Gordon Enterprises, Inc.

Bergen County, NJ, USA - comedy / music / Television
Shows Performed: 145
Shows Attended: 0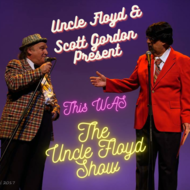 Artist Bio
Home of This WAS The Uncle Floyd Show LIVE!
What do Paul Simon, David Bowie, The Ramones, and John Lennon all have in common? They were all among the people who watched and loved the Uncle Floyd Show.
PLEASE NOTE: These shows are… (read more)
PaddyMeBoy

pganbarg

FanFred

OutWest

Eileen_Lawrence
Last Tip From
Gloria_DeMassi
Upcoming Shows (To Be Announced)

78
tickets left