Tylan & Ingrid
Berkeley, CA - folk / americana / singer-songwriter
Shows Performed: 8
Shows Attended: 3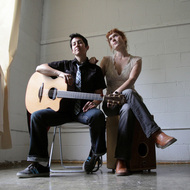 Artist Bio
I'm a founding member of Girlyman, now out on a solo limb. My debut solo CD, "One True Thing," was released on June 18, 2013! Increasingly I'm performing as a duo with Ingrid Elizabeth of the band Coyote Grace.
"While Girlyman's… (read more)
DanGBerry

AnnikaJayne

AnneBFurr

KnitsAndThinks

DIANA_KAY
Last Tip From
strongblackvine
Music By This Artist:
One True...
Tylan